Moulton Police
---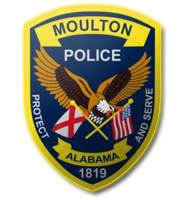 Lyndon McWhorter was appointed Chief of Police for the Moulton Police Department in August 2005.  The department has twelve full-time sworn police officers.  There are also ten reserve officers, two of whom are sworn officers.  The goal of the Moulton Police Department is to serve and protect the citizens and visitors of the City of Moulton.  Officers primarily enforce state and local criminal and traffic codes to provide a safe community for Moulton residents.
The department relies on the community for assistance in reporting crimes and for information regarding criminal acts or other suspicious activity.  Anyone with information regarding criminal or suspicious activity is asked to call (256) 974-3961.  Callers may remain anonymous.
Anyone needing to obtain a copy of an Incident/Offense Report or a Traffic Accident Report should call (256) 974-5191 to ensure the report is ready for pick-up.  When reports are ready, a copy may be obtained on the first floor of Moulton City Hall.  All Incident/Offense Reports and Traffic Accident Reports are $5.00 each.
MISSION
The mission of the Moulton Police Department is to create a safe community for our citizens and a hospitable environment for visitors.
CORE VALUES
SERVICE TO THE COMMUNITY
We are dedicated to enhancing public safety and reducing the fear and the incidence of crime. People in our community are our most important resource. Our motto "To Protect and Serve" is not just our slogan - it is our way of life. We will work with the people in our communities and do our best, within the law, to solve community problems that effect public safety. We value the great diversity of people in both our residential and business communities and serve all with equal dedication.
INTEGRITY IN OUR ACTIONS AND WORDS
Integrity is the standard and foundation of core ethics.  We will conduct ourselves in a manner that merits the respect of all people.  It is through our conduct that we will earn the trust and respect of our community and each other.  We must exemplify honesty and integrity in all our interactions.  Our actions must match our words.  We must have the courage to stand up for our beliefs and do what is right.
RESPECT FOR PEOPLE
We will respect the rights of all citizens.  We understand that respect is not given freely, but must be earned.  We will be respectful and render services free from prejudice and favoritism.  We will show compassion and empathy for the victims of crime and treat law violators with respect and dignity.  We will earn respect for the Moulton Police Department through our treatment of others.
ADHERENCE TO THE LAW
We have been given the honor and privilege of enforcing the law.  We must continuously obey and support the letter and spirit of the law.  We must use the power and authority that has been granted to us by the people fairly and prudently, exercising sound judgment and virtue.  We will maintain strict adherence to the law always seeking to make our community a safer place to live.
EMERGENCY NUMBERS
Police Department 256-974-3961
Sherrif's Department 256-974-9291
or call 911